Name: Amitav Ghosh
Born: 11 July 1956, Kolkata
Education: St. Stephen's College, DSE, University of Oxford
Occupation: Novelist
Genre: Contemporary Fiction, Socio-political Fiction, Historical Fiction
Famous Novels: The Hungry Tide, The Glass Palace, Sea of Puppies, Gun Island
Notable Awards: Jnan Pith Award, Sahitya Akademi Award, Padma Shri (all Gov. of India)
Amitav Ghosh has become synonymous with serious fiction in Indian English literature. Unlike a few of his peers, he does not rely on ideology more than his linguistic prowess and depths of themes. To begin with, Amitav Ghosh's writing style can be described as lyrical and evocative, infused with an amalgamation of erudition and narrative finesse that transcends conventional literary boundaries. The choices of themes by Ghosh are such that a reader sitting on his relaxing chair in a distant part of the world can find something to relate to – in characters, in concerns, in craft or even in the allusions. There is no exaggeration in saying that his pen wields a kaleidoscope of meticulously researched historical contexts, intricately woven plotlines, and vividly drawn characters, all converging into a tapestry of literary virtuosity. With his prodigious lexicon and nuanced storytelling, Ghosh navigates the complexities of identity, culture, socio-political landscapes, and a serious concern for environmental well-being (necessary for our survival) orchestrating a symphony of words that dances upon the reader's imagination and unravels the profound intricacies of the human condition, leaving an indelible impression long after the final pages have been turned. In this article, we will examine various details, including the mighty and the weak points of writing, about Amitav Ghosh as a novelist. We will discuss his contributions to the corpus of Indian English literature. Let's begin with brief biographical details!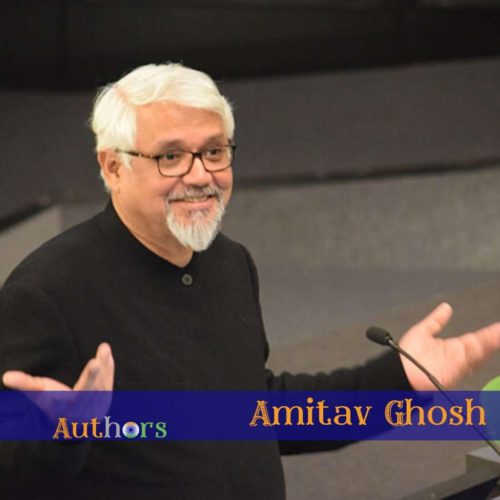 Biographical Details:
Amitav Ghosh, the renowned novelist known for integrating ecological concerns and man-nature relationships in fiction, was born on July 11, 1956, in Kolkata, India. Luckily for him, people around him were deeply rooted in academia and literature. Ghosh's father, Lieutenant Colonel Shailendra Chandra Ghosh, was a retired officer of the Indian Army and an ardent reader, and his mother, Romila Ghosh, was a housewife and a skilled storyteller. Inevitably, Amitav Ghosh's upbringing was influenced by his father's love for books and his mother's storytelling abilities.
The education that Ghosh received was rich. After completing his schooling in Kolkata, as many in the country do, Ghosh pursued his higher education in Delhi, where he earned a Bachelor's degree in History from St. Stephen's College. Delhi remained dear to him for a few more years as he went on to obtain a Master's degree in Social Anthropology from the prestigious Delhi School of Economics. Ghosh furthered his education with a PhD in Social Anthropology from the University of Oxford.
Ghosh is married to an American writer Deborah Baker.
It is interesting to note that throughout his life, Amitav Ghosh has lived in various parts of the world. Naturally, this contributed to his diverse perspective and global outlook. He has resided in India, Bangladesh, Sri Lanka, the United Kingdom, Egypt, and the United States. Living among people of different backgrounds is always a rich experience and Ghosh enjoyed it, learned from it, and (must have, probably) polished the theories he learnt in the classes of Social Anthropology. And one can easily mark that these experiences of living in different countries have greatly influenced his writing and enabled him to explore a wide range of themes and settings in his novels. Moreover, it is also notable that Ghosh's multicultural background and his extensive travels have informed his literary works, allowing him to delve into historical events, political landscapes, and social issues with depth and insight. His writing showcases a keen understanding of the complexities of identity, cultural clashes, and the human condition. Today, Amitav Ghosh continues to be an influential and prolific writer, bridging the gap between the East and the West through his powerful narratives and thought-provoking reflections on the intricacies of human existence. He mostly resides in the USA.
Writing of Amitav Ghosh:
The literary journey of author Amitav Ghosh started in 1986 with the publication of The Circle of Reason. The novel attracted readers mainly from countries other than India and went on to win an important French literary prize in 1990. However, the fame came to this India-born (American – can we say that?) author only with the Sahitya Akademi award in 1989 that he got for The Shadow Lines, a fictional work revolving around the 1963-64 communal riots in Dhaka. This book brought recognition for Amitav Ghosh in India as well as in different parts of the world. The novelist has written 10 novels and 9 non-fictional works till now. Famous novels to date are The Hungry Tide, Gun Island,  The Glass Palace, Sea of Pupplies and The Calcutta Chromosome. Other novels are also popular among readers but not as much as the ones mentioned in the previous line. Non-fiction works by Ghosh are famous in academic and literary circles, largely. In the works of Ghosh, the novels especially, readers will often find ecocritical concerns that critics have picked up very well. Even in interesting tales like Gun Island by Amitav Ghosh, readers are not bereaved of watching nature unfold itself no less than an actively participating character. Among many other issues that it raises, Sea of Puppies discusses the orthodox issues of Hindu society and depicts the horror of those banned practices which haunted women for so long. The recent work by Amitav Ghosh, The Great Derangement takes on the issues of climate change. This non-fiction book came out in 2016. A casual observation of the list of publications by Ghosh will tell that he has tried historical fiction, thriller (very unlikely Ghosh), and serious contemporary fiction decorated with veins of historical and socio-political issues and with embedded concerns of ecology and environment. And the author has kept on with the latest. The Hungry Tide, The Ibis Trilogy, and even later works do share ecological concerns. And it rather suits the author. Non-fiction writings by Ghosh are open advocacy for the environment and ecological balance. The Nutmeg's Curse: Parables for a Planet in Crisis is a good example of Ghosh's writings about the climate crisis.
Amitav Ghosh as a Novelist: A Critical Assessment
While there are many things one can discuss when it comes to analysing the writings of Ghosh in general and commenting upon his literary craft, it will always be on the positive side… tilted more towards his skills and magical art of fiction. Though the author does have some limitations as well. Well, who doesn't have those? Amitav Ghosh has been delivering amazing works of fiction and non-fiction one after another almost for three and a half decades. After the publication of The Hungry Tide in 2004, a great shift towards ecologically conscious fiction can be observed. The Ibis Trilogy is a testimony to the environmental concerns of the author. However, is Amitav Ghosh's fiction all about the environment and human-nature relationship? Or is there more to it? In this section, we will explore the writing style of the author with analyses of the art of plot construction, characterisation and the choices of themes.
Let's begin with Ghosh's writing style which is characterised by his skilful interweaving of multiple storylines, resulting in richly layered narratives. And it has been the trademark in the style of Ghosh since the very beginning. If readers remember, in The Shadow Lines, Ghosh employs a non-linear structure, shifting between different time periods and locations from time to time. He does so to explore the complexities of memory and identity. As the narrator reflects, "Time, which sees all things, has found you out" (The Shadow Lines: 64). It is like depicting the omnipotent and omnipresent nature of time – time does know it all. And the author, almost in camaraderie with time, narrates many tales together. This technique not only adds depth to the plot but also mirrors the fragmented nature of human experiences. This style has been pursued by the novelist Amitav Ghosh almost in every novel by him. The layers of storylines in The Hungry Tide, Gun Island, Sea of Puppies… and so on… However, before I switch to discussing other features that Ghosh exhibits in his writings, let me bring to notice the limitations of this multilayered narrative. If you are a reader who is patient enough to notice every flow of inputs coming from different directions and carefully join them all together to make sense, it might be an amazing experience. However, readers who are rather quick in demanding actions and a plot that unfolds quickly in a linear way might get frustrated and they might also have a disjointed reading experience, pushing them away from the narrative. Compared to contemporary authors like Chetan Bhagat and Amish Tripathi (click on the names to reveal their biography and analysis of their writing styles), Ghosh demands more intellectual alertness from his readers.
After richly layered narratives, it is natural to put one's attention to the richness of historical context that Ghosh brings to the fore in his novels. It becomes important for the novel because historical context serves as an add-on to the scheme of multiple narratives. If you have read enough by Ghosh, you must remember in his novels a story runs in the foreground and many different stories (at times, or at least one) run in the background. Many times, the background story is based on historical context – colonial, partition, folklore, mythology or someone's personal history. And it should also be noted that the historical contexts that Ghosh brings reflect his meticulous research and attention to detail. For example, in The Glass Palace, he intertwines fictional characters with real historical figures against the backdrop of British colonialism and the fall of the Burmese monarchy. The same can be seen in The Hungry Tide and also in Sea of Puppies. That is why critics have praised Ghosh's ability to bring history to life through his evocative descriptions. Therefore, we can conclude the section with a statement that Ghosh's historical landscapes are vividly portrayed, immersing readers in the vibrant tapestry of the past. However, just to add what it could mean to readers at large, and to balance the perspective from a neutral observer's point of view, too much history, at times, burden the momentum of the 'present' storytelling and common readers might find themselves bewildered… meandering with no definite path to follow – where is the story I was reading? And like I stated earlier, Ghosh's writing demand more from readers intellectually than it offers space for emotional or romantic exploration.
While I discuss Ghosh as a novelist, in the same breath, it becomes important to discuss his choice of themes, and everything that eventually leads to a thematic complexity adding to the craft of fiction in a positive way. It is no longer up for conjecture that Ghosh tackles a range of complex themes in his works, including identity, cultural encounters, and the impact of historical events as well as environmental consciousness. Let's discuss Sea of Poppies, for example. In this novel, he explores the intricacies of colonialism, social hierarchies, and the indomitable human spirit. Critics have pointed out, in the context of this and other novels by Ghosh, the author masterfully intertwines individual stories with broader societal issues, creating a tapestry of interconnectedness and reflecting the complexities of the human condition. In simple words, the author has the magic wand to transform anything individual into a social and spread it in a way that anyone can experience what a character in the novel goes through. Individual, religious, social, regional, and cultural issues often incorporate thematic depth in the novels by Ghosh.
And then, as we move towards concluding the section on Ghosh as a novelist, one cannot ignore the hint that I earlier highlighted – environmental consciousness or ecological awareness in the fiction of Ghosh. It constitutes an important aspect of Ghosh's writing. His focus on environmental concerns and climate change is evident in many of his novels. In his non-fiction works, like The Great Derangement, this concern comes up without the foil of fiction and the author has garnered appreciation from critics and scholars for the same. From many forums, Ghosh argues for the inclusion of literature in the discourse on climate change. He challenges traditional boundaries between science and the humanities. Ghosh's incorporation of environmental themes in his fiction, such as in The Hungry Tide, demonstrates his commitment to raising awareness about ecological issues. Almost all of his works, in the fiction genre, emphasise the inevitable relationship between humanity and nature. The author also underlines, through his thought-provoking themes and implicitly embedded environmental and ecological aspects in his novels, that human actions have consequences (on the environment) and we must acknowledge our responsibility for the same.
Overall, critically assessing Ghosh as a novelist may be a subjective issue. There are readers who love reading complex fiction – novels that come loaded with many different aspects rather than being monotonous and simplistic. Novels by casual fiction writers like Durjoy Datta and Nikita Singh run on a single wheel. You will find a singular line that begins with two persons, sometimes three, moving in one direction and interacting with their affiliations in between, ending with two together or all three on separate planes. However, even though the stories by these authors are monotonous and formulaic, many readers do not read them. These authors lack the very soul of literature – literary merit. Amitav Ghosh, on the other hand, has literary merit, a sense of fiction, the craft of novel writing, and a command over the subjects he writes about. However, at times, many critics have pointed out and it becomes apparent as you read his novels, Ghosh relies more on his detours rather than the main path. To put it simply, in the novels by Ghosh, at times, digressions become major storylines and the main event in the plot fades somewhere in the background. It certainly hurts the emotional and intellectual connection and bonding of readers. Modern (and young, to be more specific) readers seldom have the patience to keep an account of many different storylines and subplots. They demand action that casual fiction writers deliver. Nevertheless, literary fiction readers and all those who believe (as the author Ghosh himself does) literature has more to serve than merely to entertain readers, will find the fiction writings by Ghosh decorated, enticing and sensibly composed. However, to be frank and brutally just, such a tribe exists with very few members in it!
Awards and Honours Given to Amitav Ghosh:
Sahitya Akademi Award for The Circle of Reason – 1990
Prix Médicis étranger for The Shadow Lines – 1990
Ananda Puraskar for The Shadow Lines – 1990
Arthur C. Clarke Award for The Calcutta Chromosome – 1997
Padma Shri, one of India's highest civilian honours – 2007
Crossword Book Award for Sea of Poppies – 2009
Dan David Prize in the "Present Time – Literature" category for Sea of Puppies – 2010
The Jnanpith Award – 2018 (the first Indian author in English to receive this honour)
Controversy and Political Biases:
Authors and activists – intellectuals as we often say in India – have respect as well as notoriety for various reasons. Because of awards and honours they receive, qualities are often 'ascribed' to their writings and Arundhati Roy is the biggest example of it. Her works seldom have the qualities 'critics' ascribe to them. However, Ghosh and not as notorious as one needs to be in the league of Roy. Roy's stances are explicitly anti-India. Ghosh, nevertheless, does not make his stance clearly visible. However, the multi-awarded novelist has been in question, many times, for his opinions and stands. For instance, along with 199 other 'authors' and 'academicians,' Ghosh signed a letter in 2020 demanding the release of convicted criminal Umar Khalid for his role in the Delhi Riots (September 24, 2020: Times of India). Umar Khalid is the JNU fame 'leader' known for his anti-India speeches and opinions that openly defy Indian territory and democracy. On many other occasions, Amitav Ghosh has openly challenged the very Indian democracy that has wilfully elected the current Indian prime minister Narendra Modi (second term, 2019-24) by stating (with other 'authors' and 'activists', as usual) that he wants to save the Indian democracy and safeguard the democratic values. Which democratic values, Mr Ghosh? And who do you want to see at the helm of the regime by 'removing' Mr Modi from the democratically elected position?
In 2013, just after the current PM, Modi was announced as the PM candidate of the BJP-led NDA, the usual collaboration of left-biased, prejudiced against Hindu identity and in bed with UPA (not an exaggeration) authors and activists, along with the faces like Roy, Ghosh, Jhumpa Lahiri, etc came together to oppose Modi on every possible occasion, on every available platform, and in every possible country they could. An article published in The First Post on 16 September 2013 featured Amitav's remark that Modi as a PM will 'deeply destabilise India'. Ironically, the 'esteemed' author was speaking to a biased, prejudiced, and now out-of-job TV anchor Sagarika Ghose. Well, I hope Mr Ghosh must have been a witness to the recent PM Modi's successful trip to the country of his residence, the USA. Not only that, but I also hope the 'concerned' climate activist and novelist must have witnessed how India, under the leadership of Narendra Modi, has spearheaded the campaign against climate change and also, the author must have witnessed, how PM Modi's efforts have helped in the organisation of the International Solar Alliance under the leadership of India which is rather thriving and looking ahead instead of collapsing and destabilising as the 'visionary' author has predicted back in 2013. I mean from where do these authors glean the temerity to face the world after making such foolish predictions? How do they muster the courage to face their readers and audience after being part of such cabals of 'hooligan' intellectuals who are good for nothing when it comes to understanding INDIA?
And the author was, then, with a glee face accepting the award, the highest award for literary merit given by the same Modi Government in 2018, the Jnanpith Award. Not only that, on every new edition of every novel or non-fiction book by the author, any reader can see 'from the Jnanpith Award Winning Author'. Why this hypocrisy, Mr Ghosh? 
In a dedicated section below, I will put all the works by Ghosh with publication years so that readers and research scholars in English literature can make use of the data.
Books by Amitav Ghosh:
Novels:
1. The Circle of Reason (1986): Set in the 1970s and 1980s, The Circle of Reason follows the life of Alu, a young Bengali orphan, and his journey from his village in East Pakistan (now Bangladesh) to the diverse landscapes of India. In his debut work, Ghosh explores themes of identity, religious tensions, and the consequences of political turmoil.
2. The Shadow Lines (1988): The Shadow Lines consists of a multi-layered narrative that delves into the interconnectedness of personal and collective histories. Through the perspectives of the protagonist, Tridib, and his family, Ghosh examines themes of nationalism, partition, and the enduring impact of historical events on people who are part of those.
3. The Calcutta Chromosome (1995): The young writer in Ghosh tried his hands on science fiction with 'roots' in Bengal with The Calcutta Chromosome. The novel ventures into the realms of science fiction, unravelling a tale of medical mysteries, time travel, and the search for a lost scientist. Lesser known among young readers today, this novel does offer insight into Ghosh's prowess of imagination and storytelling. The author examines themes of technology, human experimentation, and the blurred boundaries between reality and fiction.
4. The Glass Palace (2000): Spanning from the British colonisation of Burma to the present day, The Glass Palace traverses the lives of characters across generations, offering a panoramic view of history, politics, and the struggles for independence. Ghosh delves into themes of imperialism, displacement, and the resilience of the human spirit. After the publication of this work, Ghosh seldom looked back… as he ventured on the path of exploring socio-political issues and ecological concerns.
5. The Hungry Tide (2004): Set in the Sundarbans, a vast mangrove forest in India and Bangladesh, The Hungry Tide delves into the brittle ecological balance of the region and the clash between humans and nature. Ghosh explores themes of environmental conservation, the impact of climate change, and the coexistence of different cultures. However, don't be afraid of these technical terms. The Hungry Tide by Amitav Ghosh also tells a very interesting story of two unlikely characters who come together by circumstances – Fokir and Piya.
6. Sea of Poppies (2008): As the first instalment of the Ibis Trilogy, "Sea of Poppies" is a historical epic set against the backdrop of the opium trade and the voyage of the ship Ibis. The novel examines themes of colonialism, social hierarchy, and the intertwining fates of individuals from different backgrounds.
7. River of Smoke (2011): Continuing the Ibis Trilogy, "River of Smoke" follows the lives of characters caught up in the opium trade during the 19th century. Ghosh delves into themes of globalization, cultural clashes, and the destructive consequences of imperialism.
8. Flood of Fire (2015): Concluding the Ibis Trilogy, "Flood of Fire" explores the climax of the opium trade and the ensuing conflicts, including the Opium Wars. Ghosh examines themes of war, political manoeuvring, and the far-reaching consequences of historical events.
9. Gun Island (2019): Gun Island by Ghosh delves into the intersections of myth, history, and climate change. The novel circles around Deen Dutt, the protagonist, who embarks on a journey that takes him from Kolkata to the Sundarbans. Ghosh, as usual, ventures into themes of environmental conservation, the impact of climate change on vulnerable communities, and the significance of storytelling in navigating the complexities of our world.
10. Jungle Nama (2021): In this latest novel, Ghosh has tried to retell the famous Bengali legend of Bon Bibi (Goddess of Forest). It is a graphic novel, the author's first attempt in this genre. Ecological concerns are explicitly available in the novel as the title suggests loud and clear. Also, the author has tried the verse-storytelling technique for the first time in Jungle Nama.
Non-fiction Books:
In an Antique Land (1992): Blending history and travelogue, In an Antique Land is a combination of Ghosh's experiences in a remote Egyptian village with the story of a twelfth-century Indian slave. The book explores themes of cultural encounters, power dynamics, and the complexities of cross-cultural communication.
Dancing in Cambodia and at Large in Burma (1998): Dancing in Cambodia and at Large in Burma is a fine collection of essays that captures Ghosh's journeys through Cambodia and Burma (now Myanmar). Through vivid descriptions and thoughtful reflections, Ghosh explores the socio-political landscapes, historical legacies, and contemporary challenges of these Southeast Asian countries.
Imam and the Indian: Prose Pieces (2002): It is a collection of essays and non-fiction writings by Amitav Ghosh that offers a profound exploration of cultural encounters, identity, and the complexities of belonging. Mostly based on his observations and experiences, it is a thought-provoking collection of short non-fictional pieces.
Incendiary Circumstances (2006): The author brings a provoking collection of essays originating from his first-hand accounts of the Gulf War to his analysis of the 2004 Indian Ocean tsunami. Ghosh's Incendiary Circumstances is a thought-provoking exploration of the pressing issues that shape our times.
The Great Derangement: Climate Change and the Unthinkable (2016): Perhaps top on the list of most important non-fiction works by Ghosh, the book investigates the cultural and literary response to climate change, challenging societal attitudes and emphasising the urgency of addressing environmental issues.
Countdown (2010): This work is in collaboration with photographer Samar Halarnkar. Countdown discusses the impacts of climate change on various regions in India. The narrative is decorated with photographs, captivating and breathtaking, and insightful text.
The Nutmeg's Curse: Parables for a Planet in Crisis (2022): The Nutmeg's Curse presents another collection of essays where Ghosh explores the entangled issues of colonialism, global capitalism, and the ecological crisis. The narrative emphatically brings readers' attention to the urgent challenges faced by our planet.
Uncanny and Improbable Events: Green Ideas (2021): In this collection of narratives by various authors, compiled and edited by Ghosh, the author once again emphasises the issues that are important for our environment and planet.
The Living Mountain (2022): A short dream narrative is about Mahaparbat, a living mountain that shelters an indigenous tribe. However, human beings exploit the mountain for their benefit and bring about doom…
Conclusion:
Awarded with several prestigious and some made-and-delivered awards, the novelist enjoys popularity and respect which put him in a different league. Ghosh does command over language and literary merits. However, his novels are best suited for academic discourses and not the general readership. And it can be verified by seeing the number of opinions submitted by readers on the platforms like Amazon and Goodreads in the form of book reviews. While it is good to witness the author using literature as a medium to make the world aware of serious issues like climate change and human-nature relations, Ghosh's opinion on an unlikely marriage between science and humanities might not click the same chord with readers at large. They are good at reading science fiction and science differently. Likewise, when they read a work promising to deliver entertainment and a story to follow, they might not like finding ot several digressions and detours that perplex them. Nevertheless, as I stated earlier, Amitav Ghosh is a prolific writer who knows how to fuse the elements together and season them with the topping of linguistic mastery to appease academic readers and academia in general. Admirable and applausable!
Written by Alok Mishra & Amit Mishra for The Indian Authors